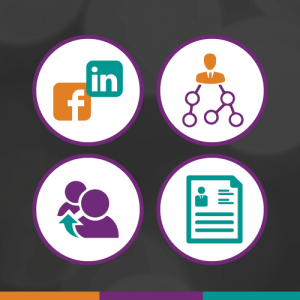 It's tempting to jump straight into the market when you're starting your job search; sending out CVs and applications to every role relevant to your skill set. However, the problem with this approach is that you could be missing a key ingredient in the job hunting success: preparation. Read on for four things you should do before starting your IT job search.
Update LinkedIn and other social media accounts
By just looking at someone's social presence, you would be surprised what you can find out and if an employer is interested in an application, it is often the first thing they do too. Because today, a lot of what you say and do online can end up in the public domain, it's more important than ever to keep your personal branding on point. It's not just about making sure your LinkedIn profile is up to scratch but keeping an eye on other social media platforms such as Facebook and Twitter.   Do they contain things you would be happy for a potential employer to see?
As an extra precaution, Google yourself to get an idea of what someone else would see when they try and find you. Are the results up-to-date? Relevant? Do you like what you see?
Take a fresh look at your CV
Your CV is still one of the most important parts of a job application, which is why it's crucial to make sure it's in the best shape possible. If you have been in the same role for a long time, it's even more likely that it will need a refresh. Before sending your CV out, avoid the common CV mistakes and ensure it reflects the value you've added in recent positions as well as the skills and experienced gained during that time. You'll also want to emphasise any recent key accomplishments that will stand out to employers on the front page.
Build your network
Connecting with people, whether that's personal or professional, can be very useful to your career. Because more and more jobs are filled without being advertised externally, conventional methods might not cut it for your job search. This is why building your network – either through social media, industry events and meetings, even catching up with ex-colleagues – is important. Ask for introductions, reach out to a specialist recruitment agency, like our team at RWA, and other contacts in the industry. Even if you're not currently seeking a new job, continually building your network can help strengthen relationships, raise your profile and open doors you never knew existed.
Check in with referees
If it has been some time since you were last in the market for a job, it is a great opportunity to reconnect and give them a heads up on the situation. Whilst references aren't likely to be checked until later in the recruitment process, you should aim to contact referees as early as possible. Firstly, take a look at your existing list and ensure that all contacts are still relevant to the roles you're applying for. At this point, you'll be able to identify anyone missing that could add further value (but gain consent before putting their name down). If you check in with referees early in the process, you'll also be able to gauge feedback regarding strengths and weaknesses that could help you during your job search. Remember, the more prepared they are, the better the reference will be. No one likes being called out of the blue and failing to check in could also slow down the process as under the Privacy Act, employers must ensure permission has been granted before contacting referees.
Summary
Before making yourself available on the job market, it's important to be prepared for your next step. By taking the time to bring everything into shape and crossing these four steps off your list, you're sure to start the job search on the front foot.   The RWA Technology People team is here to help you. If you would like more advice on the job search process, or for help with your IT job search, talk to one of our IT recruitment specialists, here.